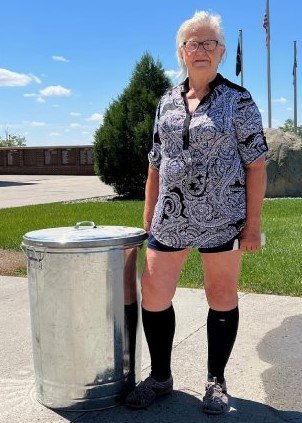 Jo Anne Setzer's amazing artistry will transform a garbage can into funds for food!
Jo Anne is one of 12 Billings artists who will paint, twist, cut, glue, weld and build their creations out of 31-gallon galvanized garbage cans during the Magic City Blues Festival at MetraPark on Aug. 5-6. Then the colorful garbage cans will be auctioned off for charity.
Jo Anne, a Montana weaver who teaches that craft, chose the Billings Food Bank to receive 100% of the proceeds from the silent auction. On Friday, Aug. 5, she has four hours to complete her vision — painting donkeys and daisies on her can.
She will be creating her masterpiece on her own time using her own art supplies from 4:30 p.m. to 8:30 p.m. in full public view. Six cans are auctioned on Friday night and another six on Saturday night. Silent bidding ends at 9 p.m. each night.
Come out to support Jo Anne, the Billings Food Bank and the Magic City Blues Festival!