We have established the Fortin Culinary Center where we teach culinary job training skills. We have so far had over 200 graduates of this program with a 99% success rate of those truly wanting to work. The demand for people with culinary skills is tremendous. We have a very strict set of rules for our students as there is no charge for the course, but if you don't show us you are dedicated, you are not allowed to continue. We have literally changed lives with this program. We are truly proud because we have moved many of our students from a generational norm of 'living on the system', to now being productive members of the work force.
Our Fortin Culinary Center has also become a source of revenue and training for our students, and others. We have a large reception hall seating 300 which can be divided into two sections for meetings, weddings, receptions, company parties, memorial services, job training sessions, Serv Safe Classes, etc. We serve many banquets on a regular basis, which, of course, is tremendous training for our students.
Culinary Job Skills Training
The onsite Culinary Skills Training Program helps adults in need of permanent employment get the skills they need for better paying jobs. The program gives men and women the stepping stone to become self-sufficient.
Our program is based on the curriculum on a very successful program in Washington called DC Central Kitchens. Robert Egger developed those classes and has provided assistance with the Billings Food Bank program. The 12-week course is held in the Fortin Culinary Center, Monday through Thursday from 8 am to 2 pm and includes 10 weeks in the kitchen and 2 weeks in the community with actual food service. The 2-week community externships will provide placements based on individual interests of the students. In Billings there are many options from colleges, hospitals, nursing homes, and retirement centers to restaurants and hotels.
Course work includes everything from culinary terminology, knife skills, and food and kitchen safety, to preparation of fruits, vegetables, stocks, sauces, meats, poultry, pastas, and pastries. A special program called ServSafe is also included and will be taught by Food Services of America. Montana State University-Billings will certify that each student has completed the course. There will be weekly tests and quizzes, and for the final exam the class will plan, prepare, and serve a meal to their families and friends.
The training program consists of:
10 weeks of on-site food preparation and classroom training, provided by a certified executive chef.
Food and kitchen safety guidelines.
They will be Serv Safe certified by Food Services of America
Coaching in time-management and basic job skills.
Weekly quizzes and tests.
Final exam students will plan, prepare and serve a meal.
2 additional weeks of job shadowing at another food establishment to boost experience.
Students will receive a certificate of completion from MSU-B
Graduates of the program also receive help in obtaining jobs in the food industry.
Apply Online for Admission to our Culinary Job Training Program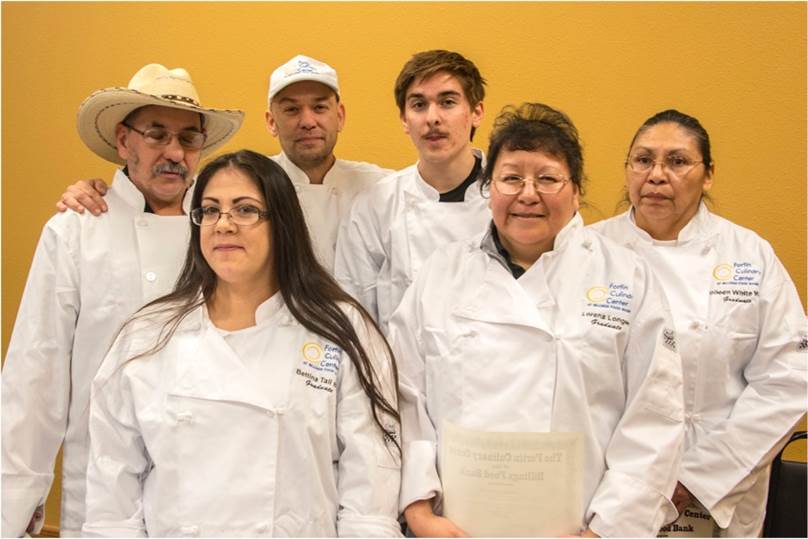 ---
Banquet and Meeting Rooms
The Billings Food Bank has a banquet room and several meeting rooms available for rent to the general public. The Banquet hall is great for Holiday Parties, Weddings, Trade Shows, Fundraisers, Parties & More!
To check for available dates and/or book these facilities, please call Sheryle Shandy at (406) 259-2856, or contact us online.
Please note: City Code may or may not prohibit you from serving alcoholic beverages at your banquet and it is your responsibility to confirm that it is OK to serve alcohol before booking the banquet room. An insurance waiver will also be required. To the extent possible, banquet room users will return tables and chairs to their original configuration at the conclusion of their gathering.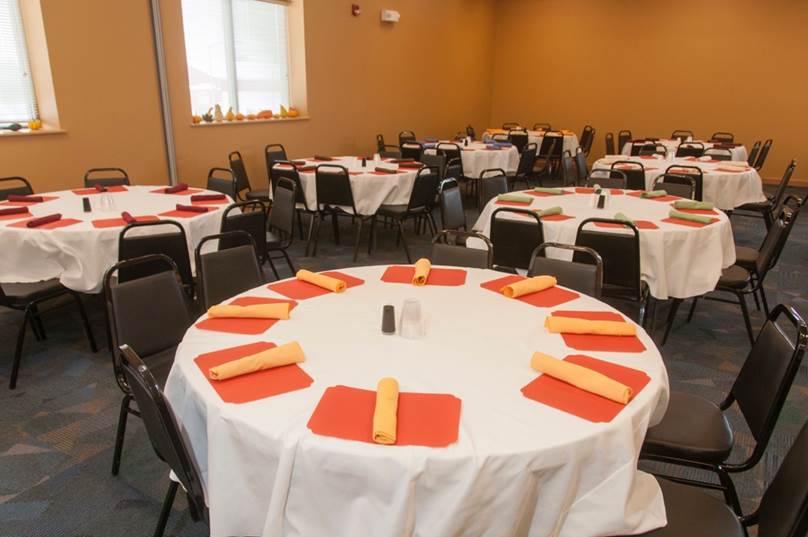 ---
Commercial Kitchen
Montana Harvest Kitchens is the first business incubator system in the State of Montana. Such facilities have proven successful in the neighboring states or Oregon, Idaho and Washington. The kitchens were designed to provide classroom space for expanded food and nutrition education programs and commercial space and equipment for entrepreneurs wishing to enter the specialty food industry.
The kitchens primarily serve the 11 county areas surrounding Billings but is open to anyone in Montana. The facilities will accommodate groups but it is also available for single time users.
For more information on using either the domestic or commercial kitchen or the attached meeting area please contact Sheryle Shandy at (406) 259-2856.
Commercial Kitchen Equipment
True Reach Freezer
True Reach Cooler
12′ SS Counter w/ 2 sinks
10 gal Tilt Kettle
80 gal Tri Leg Tilt Kettle
40 gal Tilt Skillet w/ cover
Steam Generator
6′ Bakers Table
3′ SS Prep Table
5′ SS Prep Table
Proofer Holding Cabinet
60″ Clean Table
115″ Pot Sink w/ Sanitizing Heater
Dishwasher w/ Booster Heater
2-Roll Handwrap Station
Vac Pac Machine
6 Burner Jade Range w/ oven and warming plate
Double Stack Convection Oven
60 qt Mixer w/ 20 gal Adapter & attachments
96″ Soiled Dish Table w/ Pre Rinse & Disposer